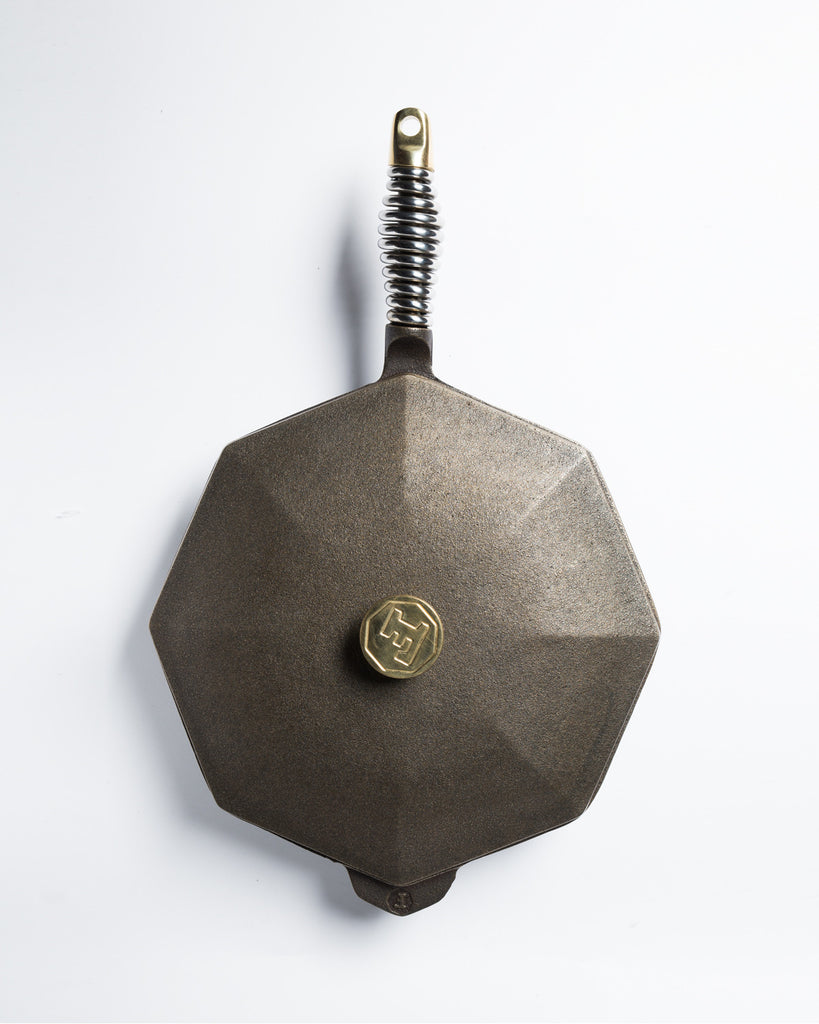 FINEX Cast Iron 12" Skillet & Lid Set
Sold Out
Yes. You can have it all. This set includes the superfine 12" FINEX skillet and its perfectly matched lid. FINEX Cast Iron Works was founded on the vision of an heirloom quality modern cast iron skillet, and they seek to provide every chef and cooking enthusiast with the finest American-made cast iron cookware imaginable. The CNC milled cast iron has an impeccably smooth finish to reduce sticking. The fun octagonal shape allows improved pouring in multiple directions and makes plating easy and elegant. That odd coiled handle is more than just form factor, the wound spring dissipates heat much faster than a traditional integrated shape, while adding girth for a much needed ergonomic update. On top of the pragmatic engineering the added distinctive graphic design by Aaron Draplin/Draplin Co. (of Field Notes fame) spices up the solid design. 
In addition to boasting that distinctive octagonal shape, they are designed, cast and machined with the same precision as the FINEX skillets themselves. These are informed by the lids on earlier generations of high quality cast iron cookware that integrated the intense durability of cast iron with the pragmatism of properly cooked foods. They also bring a lot of modern sensibility to the table. No matter how old the need to trap heat may be, this lid's beautifully arched top and brass knob are distinctly contemporary. The striking interior ridges are engineered to keep steam where you want it: inside your pan and flavoring your food. Thoughtfully, they're also designed to be easy to clean. Great for baking, slow cooking, and looking good as get-out.
*Excluded from Holiday Priority Mail Upgrade.