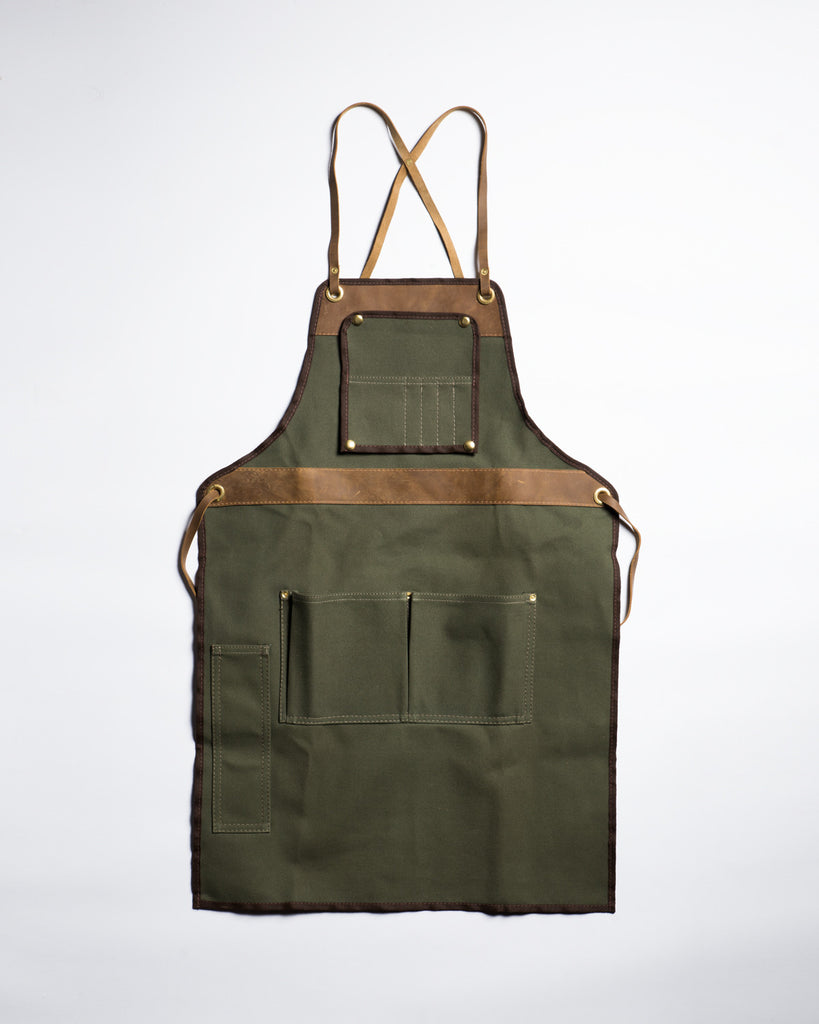 Vanport Outfitters and Hand-Eye Supply's "American Craftsman Apron"
Sold Out
This limited edition apron is now out of stock. Check out the full apron collection for other American-made work apron options. 
Vanport Outfitters' quality canvas bags celebrate a classic look designed for a modern lifestyle. Their finely tuned balance of functionality and formalism found a perfect partner in Hand-Eye Supply--the renowned haberdashery specializing in the tools and wear for making. Vanport and Hand-Eye Supply have teamed up to design a special limited-edition shop apron. Handmade by Nicholas Everett, Head of Vanport Outfitters, and his design assistant, Keely, in Portland, Oregon, this apron represents true American craftsmanship and innovation. Even the hang tag was designed and letter pressed by Portland-local print and illustration studio Keegan & Meegan.
The American Craftsman Apron is available in limited quantities in a beautiful deep Olive color. It features sturdy brass grommets, a leather waist band and a snap-on detachable front pocket with reinforced buttons for durability. Pleated pockets in the front are wide enough to fit a variety of tools or materials and a ruler pocket on the side perfectly holds a printer's line gauge. Made to endure the rigors of the shop environment, and with just the right amount of features, the Vanport/Hand-Eye Supply American Craftsman Apron is sure to be a winner in your shop. 
Super tough, heirloom quality construction
Handmade from heavy canvas and leather
Big hip pockets give lots of storage
Detachable bib pocket
Heavy brass grommets
Cross-back tie is very adjustable and comfortable for long hours
Made in Portland, OR
| | |
| --- | --- |
| | OSFA |
| Length | 38" |
| Chest Width | 10.75" |
| Hem | 24" |
I have worn a lot of aprons in my life. Each one has it's own story and place in my heart but, when it comes to aprons I tend to be pretty monogamous. My current love affair is with the American Craftsman Apron. It's attractive to the eye, sturdy yet flexible, protective and form fitting all at the same time. This one fits like a glove. Over the last few years, I've found that the more I wear it, the better it feels. The removable snap on/off chest pocket hold my small tools and any little pieces of jewelry I may need to tuck away while printing. I can detach the two bottom snaps so that I am able lean over and not have things spill out. Most other aprons lack the oh-so-important pica stick pocket (or ruler holder), but not this one. All around, I'd say it's a catch.