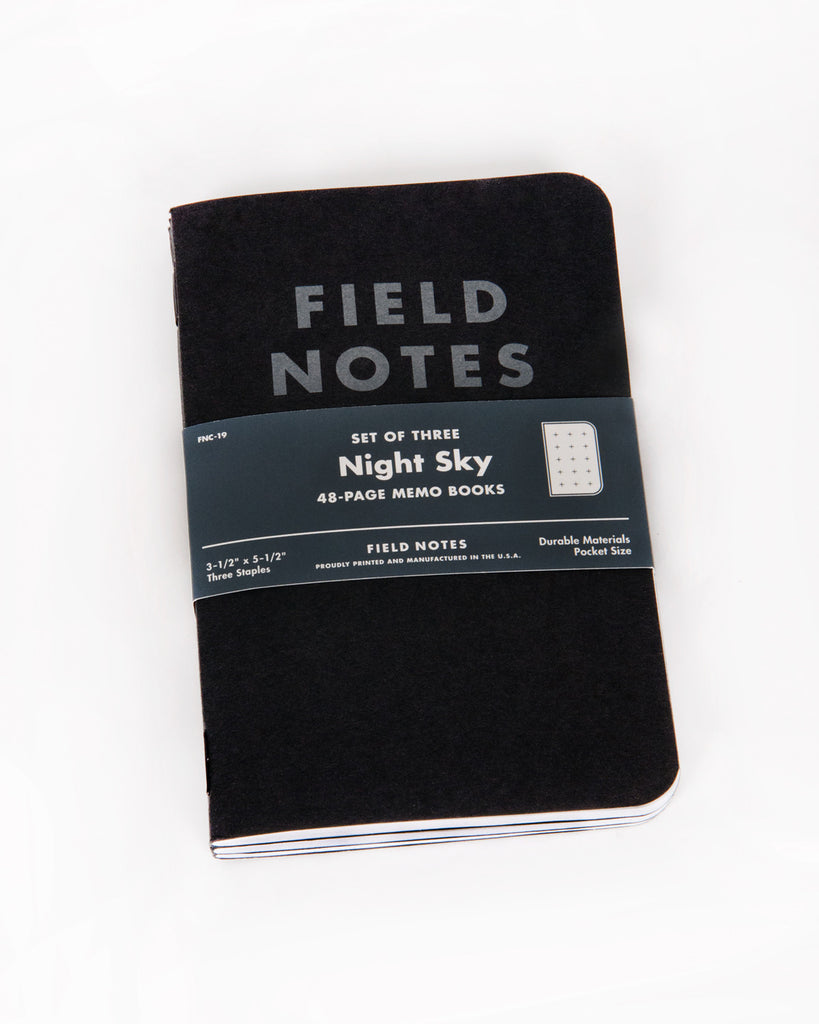 Field Notes Pack of 3 - Night Sky Edition
Sold Out
Take a moment to appreciate the most recent offering from tiny notebook titan Field Notes: the Night Sky series. 
Inspired by the vanishing subgenre of agricultural memo books, ornate pocket ledgers, and the simple unassuming beauty of a well-crafted grocery list, the Draplin Design Company of Portland, OR in conjunction with Coudal Partners of Chicago, IL bring you FIELD NOTES in hopes of offering "An honest memo book, worth fillin' up with good information." As always, they are cheekily designed, aimed at personal inspiration, and made in limited edition runs here in the US. 
The covers of these matte black booklets are subtly printed with low-contrast slate-colored ink. The front sports the standard logo and text, but the back of each gives you a different view of the summer sky's constellations, brightened by holographic hot-stamped foil stars. The set gives you one notebook each for early, mid-, and late summer, with back cover pointers for which stars to look out for at that time. On the inside, you get 48 pages of white paper printed with light gray cross-grid, a sexy solution somewhere between dot-grit and traditional grid print. Good for just about everything, in our humble opinion, even if it's hard to see in the dark. 
Set of three 5.5" x 3.5" notebooks
Beautiful holographic constellation printed cover
48 pages
CROSS-grid print
Simple, durable construction
Learn about the stars while learning about yourself
Seasonal limited edition
Made in the USA