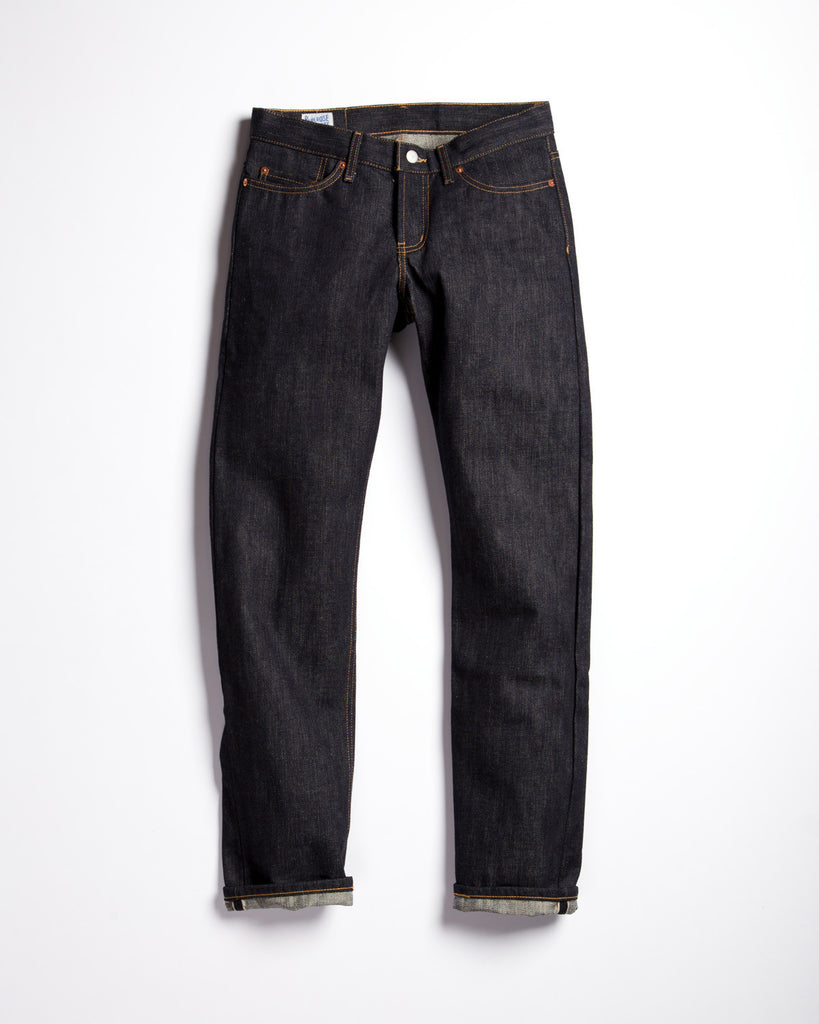 Paulrose Modern Slim 17oz Denim Pant
Sold Out
This is denim for denim-lovers. Denim for denim's sake. Heavy denim party on your legs!
Paulrose Products began in 1960 as a Montreal-made workwear label named after its owners, Paul & Rose Svarc. Though the Paulrose label was retired many years ago, Paul & Rose built a family clothing business which continues to operate today. Now, in memory of his grandfather, Brandon Svarc (designer of Naked and Famous) is rebuilding the label. The new Paulrose Products is a modern re-imagination of the original: a clothing line made in Canada using Japanese selvedge denims and Japanese shirting fabrics. Though the materials and quality are similar to the Naked & Famous line, what makes Paulrose different is the exclusive focus on unsanforized denims and vintage fits, with beautiful oxford and chambray shirts to round it out. 
The first denim production of Paulrose Products features two fits: this Modern Slim fit, and a Heritage Fit based on the 1947 Levi's 501. These Modern Slim jeans feature a whopping 17oz unsanforized indigo denim. The denim, sourced from Japan, has a hairy surface, slubby texture and a deeep indigo color. These jeans offer the features expected in the best premium denim and some more: hidden back pocket rivets, chainstitched waist bands and hems, nice pocket stitching, comfy flannel pockets, and a heavy leather label based on the original Paulrose stamp.
Hand-Eye Supply digs hard on good design, good material, and good backstory, and Paulrose dishes it out. The Modern Slim 17oz. is what it says it is. Modern, slim and flattering, they're close to the Naked and Famous "Weird Guy". The construction is hearty, and the denim is heavy enough to walk around on its own. As with all premium raw/unsanforized denim, we've found that you have to be conscientious about sizing: we strongly encourage going up a size from your pre washed jeans size. Wearing before/without washing loosens the fit, but these are shrink to fit and will tighten significantly with washing. Due to this we will not accept returns or give refunds on washed jeans. 
Wash with similar dark colors, and avoid contact with expensive light colored couches.
17oz. unsanforized denim

100% cotton

All sizes have a 34" inseam

Hidden copper rivets

Multi-colored flannel pockets

10oz thick natural vegetabled tanned saddle leather patch

Chainstitched waistband and hems

Japanese fabric

Made in Canada
Unsanforized denim will shrink when soaked or washed for the first time. Expect 3% - 5% shrinkage in the waist, leg, and length. We cannot accept returns on washed items.
28
29
30
31
32
33
34
36
37
Waist
29"
30"
31"
32"
33"
34"
35"
37"
38"
Front Rise
9.5"
9.75"
9.75"
10"
10"
10.25"
10.25"
10.5"
10.5"
Thigh
11"
11.25"
11.5"
11.75"
12"
12.25"
12.75"
13"
13.25"
Knee
7.9"
8.1"
8.2"
8.3"
8.7"
8.9"
9.1"
9.3"
9.5"
Leg Opening
6.8"
7"
7.2"
7.3"
7.6"
7.75"
8"
8.25"
8.5"
Inseam

3

3

"

3

3

"

3

3

"

3

3

"

3

3

"

3

3

"

3

3

"

3

3

"

33"