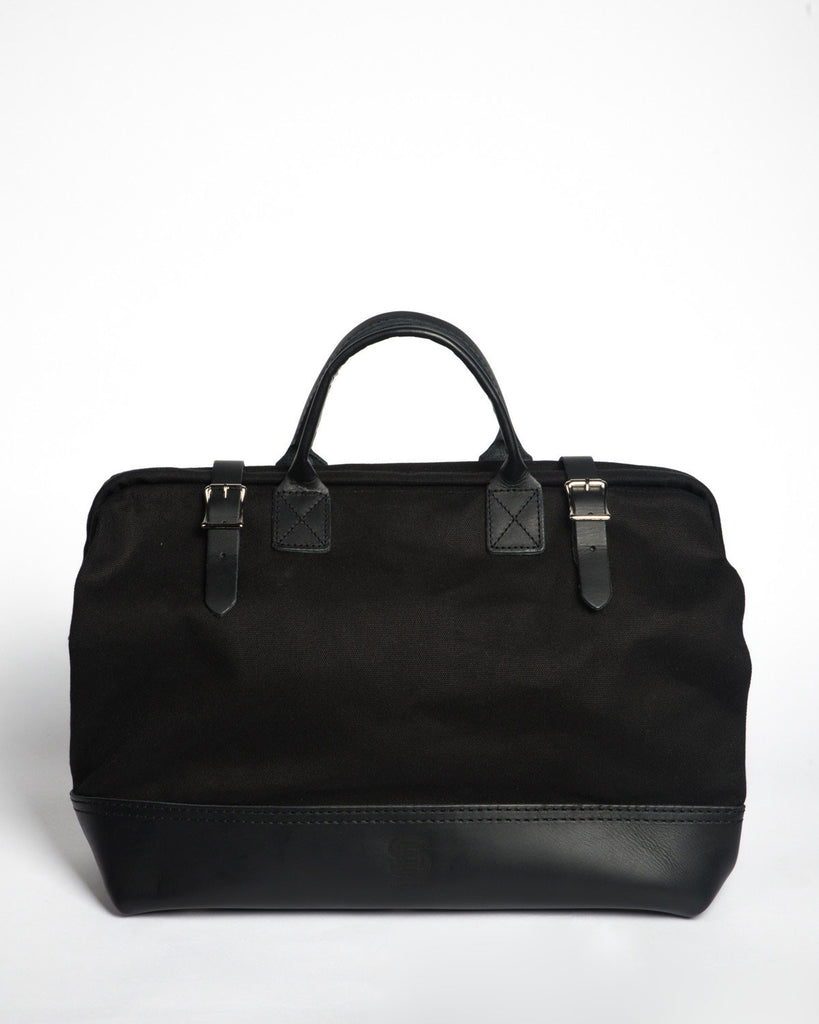 Hand-Eye 16" Canvas Tool Bag Black
Sold Out
They're here! The official Hand-Eye Supply tool bags deliver everything we've been pining for in portable storage: they're spacious, easy to use, luxurious yet burly, and - of course - made here in the US. They feel nice to use and are made to last, and have that certain something that makes us feel good giving them the Hand-Eye name.
Let's work from the top down. Two heavily stitched leather handles give good grip and help when opening the bag in fits of passion. The two leather buckles are soft, suedey and easy to maneuver. A hinged internal frame keeps the wide mouth firmly open or shut tight, overlapping securely to keep your widgets totally contained. Thick black canvas provides a solid protective layer between your items and the outside world and sports a wide internal pocket for the small stuff. A heavy leather bottom layer provides both effortless style and protection from scuffs or liquid. The rigid bottom and six steel studs keep your bag upright and buffered against the abuses of the cold hard ground. 
The size is just about perfect. It can fit standard rulers, long wrenches, large laptops, several pairs of dance shoes, hacksaws, an unreasonable stack of books, a bike helmet, or three hundred pencils, and still have room for your lunch. 
Not to be shallow, but we just think these are sexy. The black on black on black goes with everything and looks good everywhere. Literally - we had it tested. Take this thing with you and you can evoke anything from beguiling Bond villain to cheerful country doctor. For a good cop/bad cop option, check out the classic version of this black beauty.